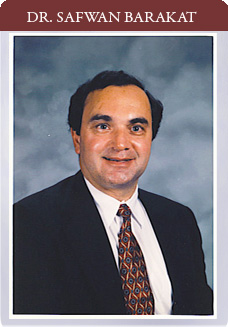 Dr. Safwan Barakat has been in private practice since 1977. He is board certified by the American Board of Neurological Surgery and has received certifications in over four states. He is a member of several societies including the Illinois State Medical Society, American Medical Association and the Chicago Neurological Society and is a fellow of the Congress of Neurological Surgeons, American Association of Neurological Surgeons, American College of Surgeons and the International College of Surgeons. He ]contributes as faculty of the American Society of Contemporary Medicine and Surgery as well as past president and current member of Kane County Medical Society. Dr. Barakat has been recognized and accredited in numerous publications touching on his expertise in Cervical and Lumbar Disc diseases and Laser Disc treatments. He participates in several lectures and cases locally and internationally.
Dr. Barakat uses his specialty trained experience to aid in bringing the most advanced treatment options available to his valued patients, while ensuring the highest standard of care and a committment to excellence.
For more information about Dr. Barakat: download a printable PDF copy of his CV.